Kia's flagship sedan, the K9, has been updated with a new design.
The K9 was sold as the K900 in the U.S. until Kia recently canceled it for our market.
We don't expect the K9 to return to our shores anytime soon.
Although it was recently dropped from Kia's U.S. lineup, the K900 luxury sedan continues on in Kia's home market of Korea. Called the K9 there, it's now the beneficiary of a comprehensive update that brings a new look and presumably an upgraded interior.
Kia has only shared photos of the exterior so far, and the new K9 has a classier look that's somewhat reminiscent of the related G90 sedan from Hyundai's Genesis luxury brand. The new front grille is imposing, and the updates at the rear include an interesting new taillight treatment with a full-width light bar that goes across the trunklid.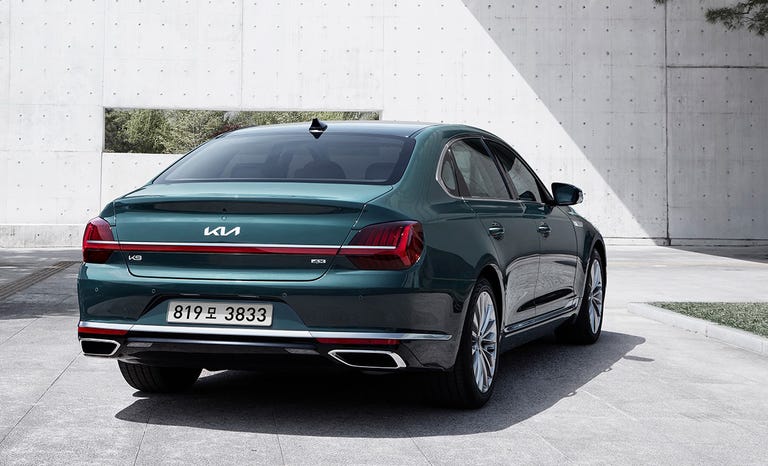 Kia
The K900 offered a single powertrain in the U.S., a twin-turbo 3.3-liter V-6 with an eight-speed automatic and all-wheel drive. Other engines are available globally, including a 5.0-liter V-8 and a naturally aspirated version of the V-6, but Kia has yet to release detailed specs for the updated version.
Kia Sedans
We don't think the K9 will make its return to the U.S. market, as sales were slow here and the Genesis division has taken over as Hyundai-Kia's luxury marque of record. But we can still admire Kia's large-sedan lineup from afar, as both the K9 and the slightly smaller K8 are introducing some interesting designs to the lineup that may eventually propagate to other Kia models that will be sold on our shores.