Late spring in Los Angeles is layering weather. The mornings are misty and cool, fogged in as if the whole city is wearing a cozy gray sweatshirt. Later in the day, the fog burns off, revealing those famous, hot, blue, California skies. It was in the cozy gray that I started out for the Auto Conduct hatchback show, slipping along the freeway in a borrowed '84 Volkswagen Golf GTI wearing same silver as the marine layer.
History Lessons
For those of you not into Golf, Volkswagen first brought the hatchback to the United States in the mid-1970s under a different name: Rabbit. The GTI was introduced in 1983 as the performance version. It's often considered the first "hot hatch," or at least the first to go mainstream (I don't want the Simca Ti people mad at me). My silver GTI wasn't really mine. It was borrowed from the VW historic collection for a day of exploring what makes people so heavily into hatches.
There was a time when the Golf would have been just one of many squared-off little hatchbacks trundling through L.A.'s arteries, but these days it's a rarity. I was alone in a sea of rounded SUVs, until I turned a corner and entered hatchback heaven. By the time the fog lifted, the parking lot was full of three-doors and five-doors, sportbacks and tourings and any other descriptor that's ever been applied to a small car with a top-hinged rear door.
View Photos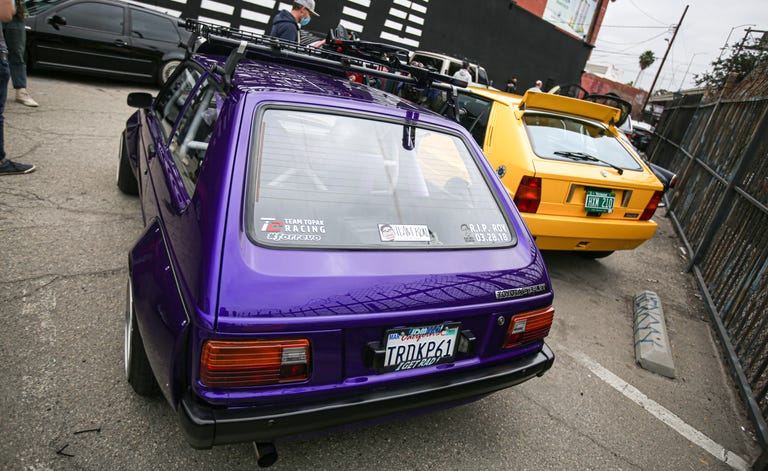 Elana ScherrCar and Driver
Defining a car's body style is an argument waiting to happen. The four-door coupe comes to mind, as does the wince of any old-school hot-rodder when something with windows and a convertible top gets called a roadster. Locking down the hatchback is equally fraught. At what size does a hatchback become a small SUV? Is a $213,000 McLaren GT a hatchback? Is a Corvette? I say yes, after 1982. None of these great arguments of our time concerned the folks admiring a not hatchy Alfa parked next to a very hatchy Lancia Integrale. They were both gorgeous, and that's all the crowd cared about. "Drive All Things," is the name of the Auto Conduct printed 'zine, and it applied to the show field too.
This is the point of Auto Conduct, a media/marketing company led by designer and general car geek, Ezekiel Wheeler. Auto Conduct holds these gatherings monthly at its headquarters in downtown Los Angeles. The next one, scheduled for June 19, will honor convertibles and is called "Alternate Ceilings."
"We want to offer a voice to car enthusiasts who have been marginalized by the mainstream," Wheeler told me as we drank coffee and watched a couple of kids race Hot Wheels on a six-lane track. Hatches, 'natch. A Datsun won.
By highlighting cars that don't often get a parking spot at the usual Cars and Coffee—the two shows before hatches were wagons and vans, respectively—Wheeler is hoping to encourage a group of enthusiasts who don't normally get seen or celebrated. And while the themes are a fun starting place, he says they'll never turn someone away for having a car that's not following the rules. "Whatever shows up, shows up," he said.
View Photos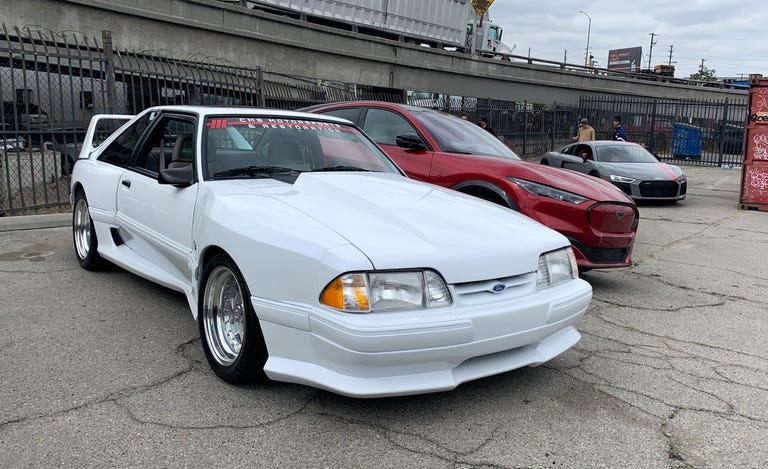 Elana ScherrCar and Driver
So there was a 911 next to a lowered and widened Fox-body Mustang next to an Mustang Mach-E (to bring in yet another naming controversy) and they were just as welcome as a modded Civic, or a stock Corolla. A crowd favorite proved to be Sara Nelson's 1972 BMW 2002tii Touring which she drove up from San Diego just for the show. "I was excited to bring it because they are fairly rare, and not many people know what they are when they see it," Nelson said. She inherited the car from her mother about four years ago, and was stoked to see a chance to show it off at a show especially for hatchbacks.
The GTI got plenty of attention too. It had a steady stream of visitors, cooing with delight over its lava-red velour interior and famous dimpled golf ball shifter—designed by Gunhild Liljequist, the same person who first came up with VW's plaid seats. She must have been on a roll that week, or, rather, that whole decade. Treat yourself to a Google search of Volkswagen's interior offerings during the '70s and early '80s.
View Photos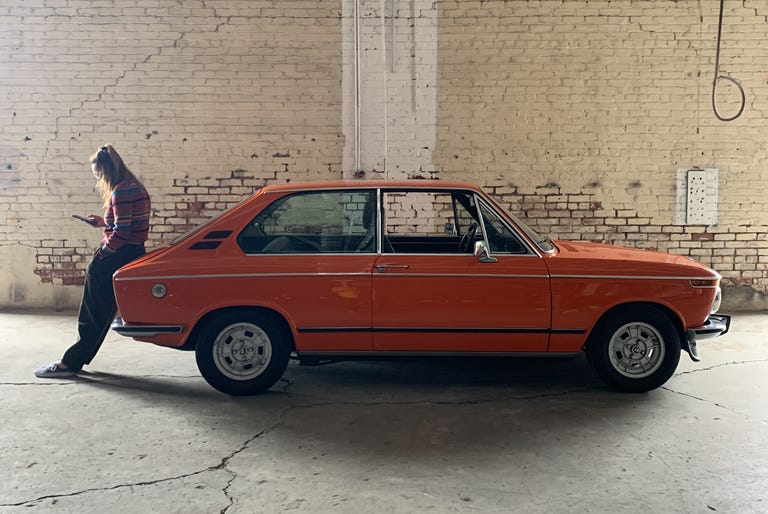 Elana ScherrCar and Driver
"We all had friends who had Golfs when we were high school," said one member of a trio of guys who stopped to ask me if I was the one who brought the Rabbit, and then, if I was loving it. "I remember it being so fast and so fun," said another. I told him I agreed with the fun part but had to question his definition of "fast." There was a moment's pause, and then he laughed and said, "Well, coming from a Schwinn 10-speed, it was fast." With that I can't argue, and to be fair to the GTI, Car and Driver's review of the Rabbit in 1983 called the 9.7-second zero-to-60 time, "brisk." (Not to mention, "the best no-nonsense performance econobox we've driven on our shores.") I'm just spoiled by modernity and muscle cars.
What that conversation made me think about, and indeed, what the younger demographics of the show backed up, is that there's an accessibility to hatchbacks. Not just literally, although it is a useful cargo configuration, but as first cars, and as first collector cars.
They tended, still tend, to be small and affordable. They are not so powerful as to frighten away parents or insurance companies, and even now are often available with manual transmissions and light, tossable bodies that are perfect for teaching a young driver the fun of a curvy road. Several of the folks I spoke with had plans to head for the hills after the show and take the long way home. I went straight home and started hunting Rabbits.
This commenting section is created and maintained by a third party, and imported onto this page. You may be able to find more information on their web site.
Advertisement – Continue Reading Below