I was doing 65 mph headed north on I-81 to Ithaca, New York. The fist-sized rock was in the same lane, headed south. My 1994 Land Cruiser's windshield is where we met, the impact creating a couple of nasty bullseyes and sending a spray of tiny shards into the cabin.
At my hotel, I pulled up the online estimate tool of a major national chain. The virtual helper gave me a price but informed me it'd be a week until the new glass could be installed. That wouldn't do. I called the local Toyota dealer, who recommended Choice Auto Glass about 15 minutes down State Route 13 in Cayuta.
Co-owner Dale Buckingham showed up at my hotel the next day with a new windshield. He's spent 30 years replacing vehicle windows and making everything from sidecar shields to flat glass for junkyard claw cranes. By way of letting me know the incident that brought us together was routine, he told me about a customer who got three of his car windows broken on the same highway in one go. "He was in the right lane and the tractor trailer was in the left lane," Buckingham said, "and it kicked something up off the road that hit his windshield, wrapped around, hit the driver's door window, bounced and hit the truck trailer again, then came back and got his rear door window."
You Bet Your Glass
He told me my broken windshield had bronze tint; he could only get a replacement tinted green. I had no clue what he was talking about, so I wanted to know everything Buckingham could tell me about glass while he replaced mine.
"Years ago, if your car had a bronze tint, it was a fancier car," he said. "They had bronze tint with brown shade, or bronze tint with a green or blue shade. But most cars now are just a green tint with a blue shade strip across the top. You get into some European cars with a grayish color, but very few. Almost everything anymore is the green."
Window surfaces haven't changed much—about the only point of stasis in a tumultuous transport sector. Everything on and around the window, however, has evolved. Carmakers long ago began relinquishing rubber gaskets and chrome surrounds for hidden fasteners, windshields affixed directly to the body, and frameless windows.
Today, windshields come embedded with luxury features and sensor arrays. I asked where he learns to take everything off. He said experience teaches the general points of attachment, but for the details, "You sit in the car and you figure it out. When the new cars first come out, we don't really have access to any type of website to tell you how to figure this stuff out. If you're really struggling with something, you can go to a YouTube video." He tries not to disconnect the sensor equipment, because automakers recommend the arrays get recalibrated after the repair.
What about the black, dotted border on some windows? Buckingham said it's called the "frit band," and it's necessary when windows are glued with urethane directly to the vehicle body instead of sitting in a molding. "It acts as a UV block, because if UV rays get to the urethane, the urethane will come loose from the window," he said. "Plus, when the window is in the car, without that black frame you'd be able to see in behind the trim and up under the dash and up under the headliner. So it blocks all the gaps."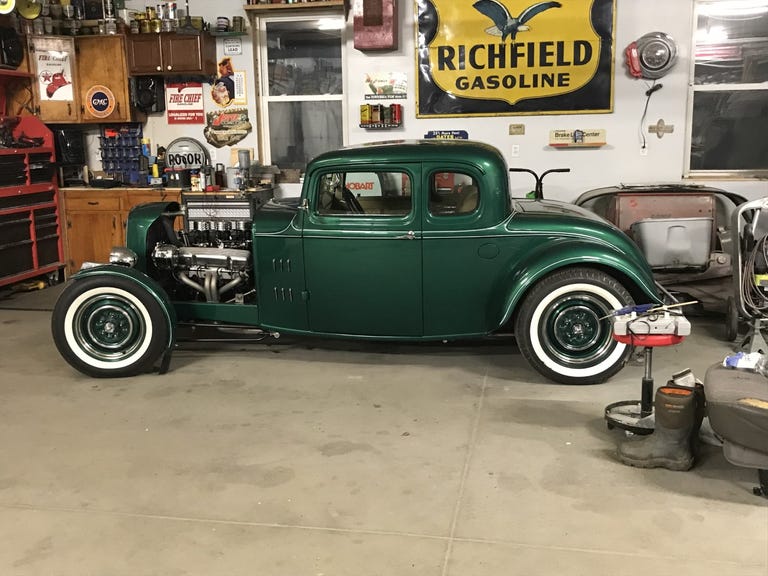 Jonathon RamseyCar and Driver
Buckingham told me he got into window work because it kept him around cars. "I've been helping my dad work on cars since I was roughly 12—he had to keep the family car running," he said. "My dad had this '32 Ford coupe in the back of the garage. I'd say, 'Come on, Dad, let's work on this car.' I fell in love with cars because of that." The car had been in the family for decades, his dad taking it to car shows and cruising as a young man. The Ford left the family for a spell, but Buckingham's dad found it eight years later and bought it back despite it being in disrepair. Dale spent three years restoring it to the same dynamite condition his dad had enjoyed as a young man.
Then he told me about his car collection, which required trip to the company HQ to see for myself. He and his business partner buy old cars and the ones that need too much work become art on the massive Choice Auto Glass lawn. The static fixtures include a Corvair, a 1950 White cabover USAIR refueling truck, a 1957 Chevy rear clip half buried in a bush, and two panel vans. There's also a 1987 Oldsmobile Cutlass from the short-lived History Channel show Leepu & Pitbull. That one had once been stuffed with a twin-turbo Chevy V-8 throwing 800 horsepower. The roadworthy vehicles are in the garage in back. There are 1928 and 1931 Chevrolets, a 1930 Ford, a 1948 Packard, and a 1987 Buick Regal T Type. He's got a 1959 panel van at home he's been working on for three years that he wants to use as his summer work truck. And the company hosts an auto show every year, the locals parking about 175 cars on the lawn, with proceeds going to the local Boy Scout troop.
As I headed out for the drive back home, he showed me a windshield for a 1954 Handyman Van that the customer had chopped three inches out of, Buckingham preparing to cut the glass to fit. A Lexan sidecar panel sitting on the workbench in front of us made him shake his head. "We normally don't deal with plastic products," he said, because they're too temperamental to shape and too easy to scratch. "But we haven't learned to tell people 'No, we won't do it.'"
This commenting section is created and maintained by a third party, and imported onto this page. You may be able to find more information on their web site.
Advertisement – Continue Reading Below